Students in Mary Suk's DANCE & DANCE MAKING explore ideas through choreography and gain skills that help them better understand both dance and the subjects of the standard curriculum. In each class, Ms. Suk teaches the students and their teachers dance techniques. She leads them through improvisational exercises that introduce the basic elements of dance - space, time, and action - and provides vocabulary with which to analyze and talk about dance. Her residencies culminate in the creation and performance of dance based on a theme from the core curriculum, with an emphasis on the collaborative creative process.
Students use aesthetics to solve problems and their solutions take shape via choreography. Students create dance steps, sequence them into movement phases, and arrange the steps into spatial patterns and rhythms. Through Ms. Suk's facilitation, students become true choreographers who experiment with movement and reflect on and assess their own work. By the end of a workshop, students feel a strong sense of ownership of both the conceptual basis of their dance and the choreographic process. Above all, the workshop offers emotional and creative release while fostering the well-being and physical development of the students.
DANCE & DANCE MAKING with MARY SUK is a twelve-week Workshop with ten 90-minute classroom sessions, preceded by one planning meeting and followed by one assessment meeting. Sample lesson plans are available on request.
---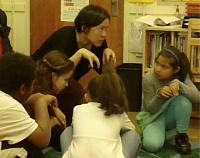 With an MA in Dance and Dance Education from Teachers College and Columbia University as well as a BA in English from Dartmouth College, Mary Suk is a contributive force in the New York art community through her work as a choreographer, modern dancer, and arts educator. Mary has gained extensive experience in art and dance education by working as a teaching artist for the New York City Ballet, the Center for Kinesthetic Education, and the Lotus Music & Dance studio. Dances she has performed and choreographed have been showcased in a variety of art and cultural sites including the Joyce Theatre, the Aaron Davis Hall, the Merce Cunningham Studio, the 92nd St. Y, and the Bates Dance Festival.