An integrative program that makes connections across culture, art, history, science, and the environment, MAKING AND USING YOUR OWN ART SUPPLIES with PATRICIA MIRANDA explores the art of color making through the simple grinding of a stone or bug into paint. Participants examine the transformation of raw materials into tools of creation and means of artistic expression. The historical use of natural materials like bugs, wasp nests, clay, and flowers, is presented through practical and creative activities. Students engage with the material world of today to better understand the importance of earth's resources, and connect with nature and human history.
Through a hands-on and truly interdisciplinary approach, students explore ancient methods of transforming raw material into means of production while also examining their contemporary significance. From science in the tranformation of raw materials into tools of creation while exploring the properties of matter, to math through the measures used in paint and ink recipes, to history and the arts, this workshop shows a new way to look at the objects of the world through the lens of culture.
MAKING AND USING YOUR OWN ART SUPPLIES with PATRICIA MIRANDA is a twelve-week Workshop with ten 90-minute classroom sessions, preceded by one planning meeting and followed by one assessment meeting.
---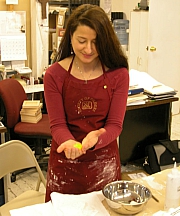 Patricia Miranda is an artist, educator and curator, as well as the founder and director of the "miranda arts project space", an art center and gallery space in Port Chester, NY. Her experience in arts education includes working at the Lyme Academy College of Fine Art and New Jersey City University. Patricia has helped develop numerous art based education programs in collaboration with, amongst others, The Solomon R. Guggenheim Museum, The American Museum of Natural History, The Metropolitan Museum, and the Smithsonian Institution. Her experience in arts education ranges from teaching foundational knowledge to instructing collegians and professionals. Her work has been exhibited in various art venues including Kenise Barnes Fine Art, Larchmont, NY; Wave Hill, Bronx NY; and Metaphor Contemporary Art, Brooklyn, NY.
Learn more at Patricia's Website.